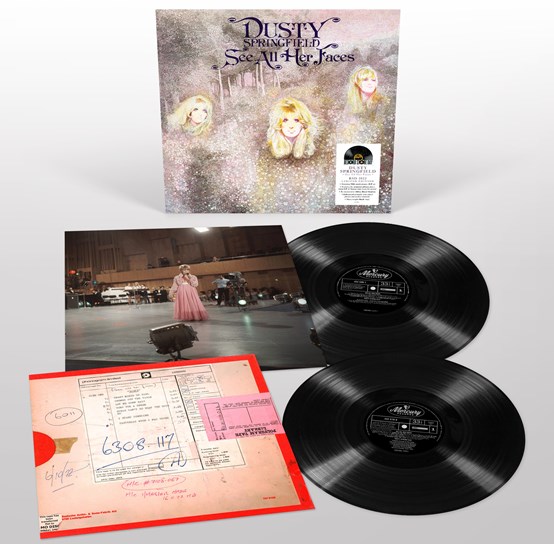 Noliktavā pieejams pēdējais eksemplārs
€39.99
Apraksts
---
Expanded edition of this fine record (a compilation of odds and ends that actually made a very cohesive album), not available on vinyl since 1972. Includes 6 additional singles/b-sides from the era.Stunning limited edition of Dusty's 1972 collection, expanded to two discs to celebrate its 50th anniversary in 2022

Features the original album plus a mini-LP of bonus cuts from the period, both re-mastered at Abbey Road - Enhanced artwork with added photos and archive material -Heavyweight BLACK vinyl -Long out of print Technically Dusty's seventh studio album, See All Her Faces is a collection of tracks from the late 1960s and early 1970s, and released on the Philips label in 1972. The original album was never released in the U.S., though some of the tracks had appeared on singles there.

Amongst the many highlights was the bossa nova-influenced title track, another bossa style number, Come for a Dream, co-written by Antonio Carlos Jobim, as well as beautifully orchestrated pop ballads, like I Start Counting, and a stab at a Motown-style groover Girls It Ain't Easy. There were also some deeply soulful tracks, echoing her 'In Memphis' LP, such as Tony Joe White's Willie & Laura Mae Jones, as well as featuring songwriting royalty in the shape of Goffin & King's That Old Sweet Roll (Hi-De-Ho), Jimmy Webb's album-opener Mixed Up Girl and Greenwich and Barry co-writes - What Good Is I Love You and Nothing Is Forever. Bonus tracks - This unique package includes an additional LP of rare tracks, recordings from the shelved 'Faithful' album along with out-takes from the original album sessions.
Žanri
---
Folk
Record Store Day
Rock
Piegāde visā Baltijā
..turklāt bezmaksas piegādes visā Latvijā pirkumiem virs 70 EUR!
Randoms Vecrīgā
Atrodi vēl 10x vairāk randoma lietas mūsu veikaliņā Vecrīgā!
Trāpi mērķī
Unikālākās dāvanas jebkuram - no kamasutras kārtīm līdz vinilu boxsetiem!
Iegūta uzticamība
Iespējams, Tava mamma pēc skolas nāca pie mums pirkt kasetes jau 1997-tajā. :)