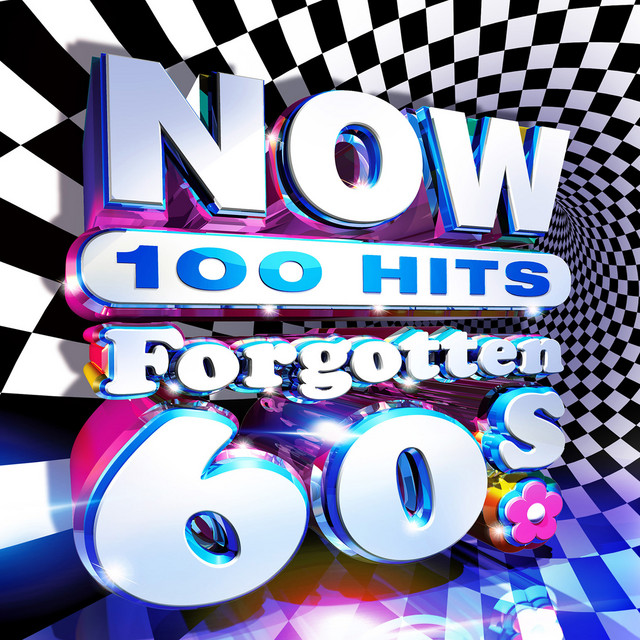 CD diski
Various - Now 100 Hits Forgotten 60's (4 CD)
Preces kods:
194397365924
Noliktavā pieejamas pēdējais eksemplārs
Apraksts
---
1-1 Bob Lind– Elusive Butterfly

1-2 Dusty Springfield– I Close My Eyes And Count To Ten

1-3 The Overlanders– Michelle

1-4 Shirley Bassey– As Long As He Needs Me

1-5 Tom Jones– I'm Coming Home

1-6 Twinkle– Terry

1-7 Love Affair– Rainbow Valley

1-8 The Isley Brothers– I Guess I'll Always Love You

1-9 The McCoys– Hang On Sloopy

1-10 Joe South– Games People Play

1-11 Brenton Wood– Gimme Little Sign

1-12 Sandy Nelson– Let There Be Drums

1-13 Kenny Ball– Midnight In Moscow

1-14 Johnny Dankworth & His Orchestra– African Waltz

1-15 Joe Loss & His Orchestra– Wheels (Cha Cha)

1-16 Jet Harris & Tony Meehan– Diamonds

1-17 Lou Christie– I'm Gonna Make You Mine

1-18 Duane Eddy– Pepe

1-19 Frank Ifield– Lovesick Blues

1-20 Crazy Elephant– Gimme Gimme Good Lovin'

1-21 Dave Dee, Dozy, Beaky, Mick & Tich– Bend It

1-22 The Tremeloes– Here Comes My Baby

1-23 The Sorrows– Take A Heart

1-24 The Showstoppers– Ain't Nothin' But A House Party

1-25 Johnny Nash– Cupid

2-1 Engelbert Humperdinck– The Last Waltz

2-2 Jacky– White Horses

2-3 Jimmie Rodgers– English Country Garden

2-4 Johnny Keating And The Z-Men– Theme From Z Cars

2-5 The New Vaudeville Band– Winchester Cathedral

2-6 Horst Jankowski– A Walk In The Black Forest

2-7 The Johnny Mann Singers– Up-Up And Away

2-8 Frankie Valli & The Four Seasons– Rag Doll

2-9 Max Harris– Gurney Slade

2-10 Sam The Sham & The Pharaohs– Wooly Bully

2-11 Georgie Fame– The Ballad Of Bonnie & Clyde

2-12 The Alan Price Set– Simon Smith And His Amazing Dancing Bear

2-13 The Avons– Seven Little Girls Sitting In The Back Seat

2-14 Floyd Cramer– On The Rebound

2-15 Bobby Darin– Lazy River

2-16 The Four Pennies– Juliet

2-17 Julie Rogers– The Wedding

2-18 The Kaye Sisters– Paper Roses

2-19 Peter And Gordon– True Love Ways

2-20 Paul & Paula– Hey Paula

2-21 John Rowles– If I Only Had Time

2-22 P.J. Proby– Hold Me

2-23 Heinz– Just Like Eddie

2-24 O.C. Smith– The Son Of Hickory Holler's Tramp

2-25 Dean Martin– Gentle On My Mind

3-1 Crispian St. Peters– You Were On My Mind

3-2 Family Dogg– A Way Of Life

3-3 Tommy James And The Shondells– Crimson And Clover

3-4 Françoise Hardy– Et Même...

3-5 Anita Harris– Just Loving You

3-6 Andy Williams– Almost There

3-7 Bobby Goldsboro– Honey

3-8 Helmut Zacharias– Tokyo Melody

3-9 Henry Mancini & His Orchestra*– How Soon (Vocal)

3-10 Ketty Lester– Love Letters

3-11 Ken Dodd– Tears

3-12 Vikki Carr– It Must Be Him

3-13 The Merseys– Sorrow

3-14 Kathy Kirby– Let Me Go Lover

3-15 Dave Berry– Little Things

3-16 Sir Douglas Quintet– She's About A Mover

3-17 The Pretty Things– Don't Bring Me Down

3-18 Clodagh Rodgers– Come Back And Shake Me

3-19 Plastic Penny– Everything I Am

3-20 The Walker Brothers– My Ship Is Coming In

3-21 Amen Corner– Gin House Blues

3-22 The Ivy League– Funny How Love Can Be

3-23 Marmalade– Lovin' Things

3-24 Sandie Shaw– Monsieur Dupont

3-25 Marv Johnson– I'll Pick A Rose For My Rose

4-1 Cliff Richard & The Shadows– Nine Times Out Of Ten

4-2 Gene Vincent– She She Little Sheila

4-3 Jerry Lee Lewis– What'd I Say

4-4 Connie Francis– Everybody's Somebody's Fool

4-5 Frankie Vaughan– Tower Of Strength

4-6 Petula Clark– Sailor

4-7 Ernie K-Doe– Mother-In-Law

4-8 The Herd– From The Underworld

4-9 The Foundations– In The Bad, Bad Old Days (Before You Loved Me)

4-10 Johnny Johnson & The Bandwagon– Breakin' Down The Walls Of Heartache

4-11 Bobbie Gentry– I'll Never Fall In Love Again

4-12 Esther & Abi Ofarim– Cinderella Rockefella

4-13 The Caravelles– You Don't Have To Be A Baby To Cry

4-14 Los Indios Tabajaras– Maria Elena

4-15 Eddy Arnold– Make The World Go Away

4-16 Robin Gibb– Saved By The Bell

4-17 Jimmy Jones– Good Timin'

4-18 Johnny Preston– Running Bear

4-19 Hugo Montenegro & His Orchestra– The Good, The Bad And The Ugly

4-20 Ferrante & Teicher– Exodus

4-21 Paul Mauriat– Love Is Blue

4-22 Mason Williams– Classical Gas

4-23 Whistling Jack Smith– I Was Kaiser Bill's Batman

4-24 Marcello Minerbi– Zorba's Dance

4-25 The Scaffold– Lily The Pink
Viesmākslinieki
---
Dusty Springfield
Tom Jones
Shirley Bassey
The Isley Brothers
Johnny Nash
Andy Williams
Dean Martin
Engelbert Humperdinck
Žanri
---
Compilation
Country
Folk
Funk
Pop
Soul
Apmeklētāji skatās arī šīs preces