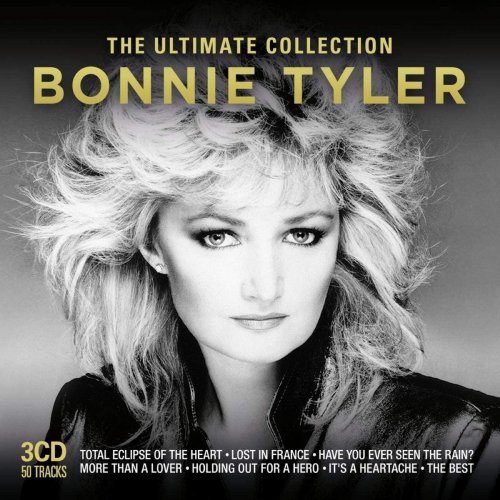 CD diski
Bonnie Tyler - The Ultimate Collection (3 CD)
Preces kods:
4050538639926
Noliktavā pieejamas pēdējais eksemplārs
€14.99
Apraksts
---
1-1 Total Eclipse Of The Heart

1-2 Holding Out For A Hero

1-3 Faster Than The Speed Of Night

1-4 If You Were A Woman (And I Was A Man)

1-5 Take Me Back

1-6 Here She Comes

1-7 Hide Your Heart

1-8 Breakout

1-9 Against The Wind

1-10 Bitterblue

1-11 Fools Lullaby

1-12 Call Me

1-13 God Gave Love To You

1-14 Before We Get Any Closer

1-15 Sally Comes Around

1-16 Say Goodbye

2-1 It's A Heartache

2-2 Lost In France

2-3 More Than A Lover

2-4 Baby I Remember You

2-5 Love Of A Rolling Stone

2-6 Got So Used To Loving You

2-7 My! My! Honeycomb

2-8 Heaven

2-9 Here Am I

2-10 Bye Bye Now My Sweet Love

2-11 If I Sing You A Love Song

2-12 Hey Love (It's A Feelin')

2-13 Too Good To Last

2-14 My Guns Are Loaded

2-15 I Believe In Your Sweet Love

2-16 Sitting On The Edge Of The Ocean

2-17 Goodbye To The Island

2-18 I'm Just A Woman

3-1 Loving You's A Dirty Job (But Somebody's Gotta Do It)

3-2 The Best

3-3 Don't Turn Around

3-4 Save Up All Your Tears

3-5 Have You Ever Seen The Rain?

3-6 You Are So Beautiful

3-7 Straight From The Heart

3-8 A Rockin' Good Way (To Mess Around And Fall In Love)

3-9 Louisiana Rain

3-10 (You Make Me Feel Like) A Natural Woman

3-11 Sometimes When We Touch

3-12 A Whiter Shade Of Pale

3-13 Piece Of My Heart

3-14 Living For The City

3-15 (The World Is Full Of) Married Men

3-16 Band Of Gold
Žanrs
---
Pop
Piegāde visā Baltijā
..turklāt bezmaksas piegāde visā Latvijā pirkumiem virs 70 EUR!
Randoms Vecrīgā
Atrodi vēl 10x vairāk randoma lietas mūsu veikaliņā Vecrīgā!
Trāpi mērķī
Unikālākās dāvanas jebkuram - no kamasutras kārtīm līdz vinilu boxsetiem!
Iegūta uzticamība
Iespējams, Tava mamma pēc skolas nāca pie mums pirkt kasetes jau 1997-tajā. :)