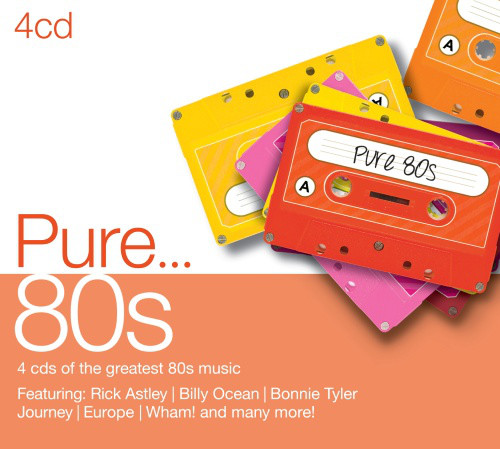 CD diski
Various - Pure... 80s (4CD)
Preces kods:
887254138327
Noliktavā pieejams pēdējais eksemplārs
€14.99
Apraksts
---
1-1 Bill Medley & Jennifer Warnes– (I've Had) The Time Of My Life

1-2 Starship (2)– We Built This City

1-3 Wham!– I'm Your Man

1-4 Men At Work– Down Under

1-5 Toto– Africa

1-6 Bangles– Eternal Flame

1-7 Sade– Smooth Operator

1-8 Michael Bolton– How Am I Supposed To Live Without You

1-9 Jennifer Rush– The Power Of Love

1-10 Martika– Toy Soldiers

1-11 Big Audio Dynamite– E = MC²

1-12 The Jacksons– State Of Shock

1-13 Paul Young– Love Of The Common People

1-14 Hooters*– 500 Miles

1-15 REO Speedwagon– Can't Fight This Feeling

1-16 Meat Loaf With Cher– Dead Ringer

1-17 Europe (2)– The Final Countdown

2-1 Ray Parker Jr.– Ghostbusters

2-2 Billy Ocean– Caribbean Queen (No More Love On The Run)

2-3 Rick Astley– Together Forever

2-4 Shakin' Stevens– Oh Julie

2-5 Daryl Hall & John Oates– Private Eyes

2-6 A Flock Of Seagulls– Wishing (If I Had A Photograph Of You)

2-7 The Psychedelic Furs– Pretty In Pink

2-8 Cyndi Lauper– Time After Time

2-9 The Isley Brothers– Caravan Of Love

2-10 Milli Vanilli– Girl I'm Gonna Miss You

2-11 Modern Talking– Brother Louie

2-12 Dionne Warwick– All The Love In The World

2-13 Aretha Franklin– Who's Zoomin' Who?

2-14 Sinitta– So Macho

2-15 Dead Or Alive– That's The Way (I Like It)

2-16 Odyssey– Use It Up And Wear It Out

2-17 Gloria Estefan & Miami Sound Machine– Conga

3-1 Survivor– Eye Of The Tiger

3-2 Mr. Mister– Kyrie

3-3 New Kids On The Block– Hangin' Tough

3-4 Run-DMC– Walk This Way

3-5 Marvin Gaye– Sexual Healing

3-6 Clannad & Bono– In A Lifetime

3-7 Spandau Ballet– Through The Barricades

3-8 Alison Moyet– Love Resurrection

3-9 Bros– I Owe You Nothing

3-10 Fairground Attraction– Perfect

3-11 Adam Ant– Two Shoes

3-12 Japan– I Second That Emotion

3-13 Journey– Who's Crying Now

3-14 Don Johnson– Heartbeat

3-15 Electric Light Orchestra– Hold On Tight

3-16 The Alan Parsons Project– Don't Answer Me

3-17 Willie Nelson– Always On My Mind

4-1 Bonnie Tyler– Total Eclipse Of The Heart

4-2 Terence Trent D'Arby– Wishing Well

4-3 Thompson Twins– Hold Me Now

4-4 Cock Robin– The Promise You Made

4-5 Dolly Parton With Kenny Rogers– Islands In The Stream

4-6 Boney M– I See A Boat On The River

4-7 Bucks Fizz– The Land Of Make Believe

4-8 Five Star– Rain Or Shine

4-9 Luther Vandross– Stop To Love

4-10 The Pointer Sisters– Jump (For My Love)

4-11 The Blow Monkeys– It Doesn't Have To Be This Way

4-12 Haircut 100*– Love Plus One

4-13 Julio Iglesias– Volver A Empezar (Begin The Beguine)

4-14 Spagna– Easy Lady

4-15 Roachford– Cuddly Toy

4-16 Alice Cooper– Poison

4-17 Kenny Loggins– Danger Zone
Žanrs
---
Compilation
Piegāde visā Baltijā
..turklāt bezmaksas piegādes visā Latvijā pirkumiem virs 70 EUR!
Randoms Vecrīgā
Atrodi vēl 10x vairāk randoma lietas mūsu veikaliņā Vecrīgā!
Trāpi mērķī
Unikālākās dāvanas jebkuram - no kamasutras kārtīm līdz vinilu boxsetiem!
Iegūta uzticamība
Iespējams, Tava mamma pēc skolas nāca pie mums pirkt kasetes jau 1997-tajā. :)