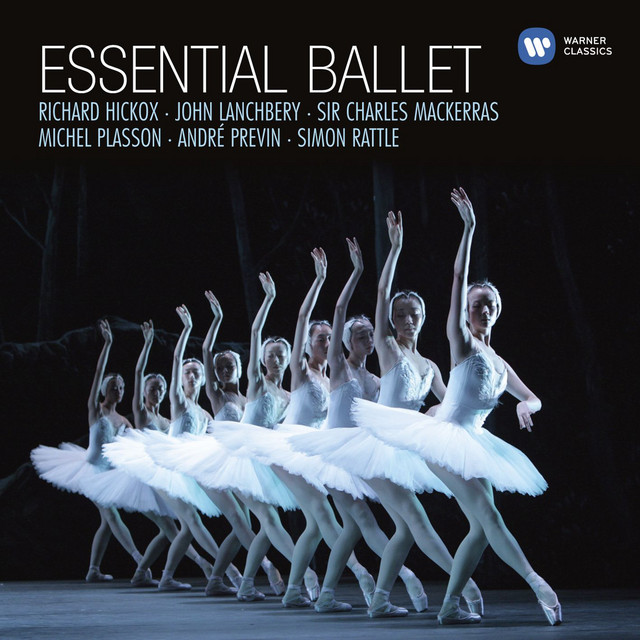 CD diski
Various - Essential Ballet (2 CD)
Preces kods:
5099964865027
Prece nav pieejama noliktavā
€9.99
Apraksts
---
CD1
Tchaikovsky: Swan Lake

1. Scene (Act II)
2. Dance of the Little Swans (Act II)
3. Pas de deux: Prince Siegfried and Odette (Act II)
4. Spanish Dance (Act III)
Tchaikovsky: Sleeping Beauty

5. Rose Adagio (Act I)
6. Waltz (Act I)
Tchaikovsky: The Nutcracker

7. Dance of the Sugar Plum Fairy (Act II)
8. Dance of the Reed Flutes (Act II)
9. Waltz of the Flowers Minkus arr. Irving:Don Quixote
Pas de deux: Kitri and Basilio (Act III):

10. I. Entre
11. II. Adage
12. III. Basilio's solo
13. IV. Kitri's solo
14. V. Coda Hrold arr. Lanchbery:
La Fille mal garde:

15. Widow Simone - Clog Dance (Act II)
16. Pas de deux: Lise and Colas (Act II)
Prokofiev: Cinderella

17. Spring Fairy (Act I)
18. Summer Fairy (Act I)
19. Autumn Fairy (Act I)
20. Winter Fairy (Act I)
21. Pas de deux: The Prince and Cinderella (Act II)
Khachaturian: Spartacus

22. Adagio of Spartacus and Phrygia (Act III) extract Prokofiev: Romeo and Juliet
Prokofiev: Romeo and Juliet

23. Dance of the Knights (Act I)
24. Balcony Scene (Act I)
CD2
Adam: Giselle:

1. Valse (Act I)
2. Pas de deux: Giselle and Albrecht (Act II) Drigo arr.
Lanchbery: Le Corsaire: Pas de deux (interpolated into Minkus's original score in 1899)

3. I. Pas de deux
4. II Variation 1
5. III Variation 2
6. IV Coda
Delibes: Copplia

7. Valse (Act I)
8. Czrds (Act I) Offenbach arr.
9: Offenbach: Gaité Parisienne
10. Delibes: Sylvia
11. Stravinsky: Petrushka
12. Stravinsky: Apollo
13. Chopin:Les Sylphides
14. Poulenc: Les Biches
15. Ravel: Daphnis et Chloe
16. Franck: Symphonic Variations conclusion Satie orch. Lanchbery: Monotones
17. Satie: Monotones
18. Lanchbery: Tales of Beatrix Poter
19. Sulivan: Pineapple Poll
20. Copland: Rodeo
21. Tchaikovsky: Serenade
22. Fauré: Jewels
23. Bizet: Symphony in C
Žanrs
---
Classical
Piegāde visā Baltijā
..turklāt bezmaksas piegādes visā Latvijā pirkumiem virs 70 EUR!
Randoms Vecrīgā
Atrodi vēl 10x vairāk randoma lietas mūsu veikaliņā Vecrīgā!
Trāpi mērķī
Unikālākās dāvanas jebkuram - no kamasutras kārtīm līdz vinilu boxsetiem!
Iegūta uzticamība
Iespējams, Tava mamma pēc skolas nāca pie mums pirkt kasetes jau 1997-tajā. :)