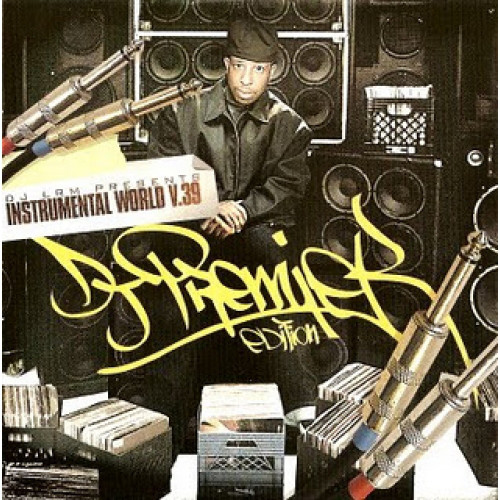 Vinila plates
DJ LRM - Instrumental World V.39
Preces kods:
8436022622722
Noliktavā pieejamas pēdējais eksemplārs
Apraksts
---
A1 Big L– Platinum Plus

A2 Gangstarr*– Code Of The Streets

A3 Gangstarr*– Dwyck

A4 Nas– Nas Is Like

A5 Gangstarr*– Mass Appeal

A6 Gangstarr*– Take It Personal

B7 Gangstarr*– Speak Ya Clout

B8 All City– The Actual

B9 Gangstarr*– Full Clip

B10 Gangstarr*– The Militia

B11 Black Eyed Peas– B.E.P. Empire

B12 Jay-Z– So Ghetto

B13 Macy Gray– I've Committed Murder (Gangstarr Remix)

C14 D.I.T.C.– Thick

C15 Gangstarr*– 1/2 & 1/2

C16 Big Shug– The Jig Is Up

C17 Guru's Jazzmatazz* & Donell Jones– Hustlin Daze

C18 D&D All-Stars– 1,2 Pass It

C19 Tony Touch– The Piece Maker

D20 Rakim– When I Be On Tha Mic

D21 Pitch Black (3)– It's All Real

D22 Royce Da 5'9*– My Friend

D23 Limp Bizkit– 2 Gether Now

D24 Limp Bizkit– Getcha Groove On (Dirt Road Remix)

D25 Royce Da 5'9*– Boom

D26 Jeru The Damaja– Come Clean

E27 Lord Finesse And DJ Mike Smooth– Baby, You Nasty

E28 Lord Finesse And DJ Mike Smooth– Track The Movement

E29 Gangstarr*– You Know My Steez

E30 Da Ranjaz* And Cee-Lo– Insp-Her-Ation

E31 Snoop Dogg– The One And Only

E32 Gangstarr*– Discipline

E33 Notorious B.I.G.– Kick In The Door

F34 Kool G Rap– First Ni**a (DJ Premier Remix)

F35 Gangstarr*– So Wassup

F36 Christina Aguilera– Ain't No Other Man

F37 Gangstarr*– Doe In Advance

F38 Craig David And Mos Def– 7 Days (DJ Premier Remix)

F39 Lina And Gangstarr*– It's Alright (Gangstarr Remix)

F40 Rah Digga– Lessons Of Today
Viesmākslinieki
---
JAY-Z
Notorious B.I.G.
Christina Aguilera
Limp Bizkit
Nas
Snoop Dogg
Big L
Gangstarr
All City
The Black Eyed Peas
Macy Gray
D.I.T.C.
Big Shug
Guru's Jazzmatazz and Donell Jones
D&D All-Stars
Tony Touch
Rakim
Pitch Black
Royce da 5'9
Jeru The Damaja
Lord Finesse And DJ Mike Smooth
Kool G Rap
Craig David And Mos Def
Lina And Gangstarr
Rah Digga
Žanrs
---
Hip hop