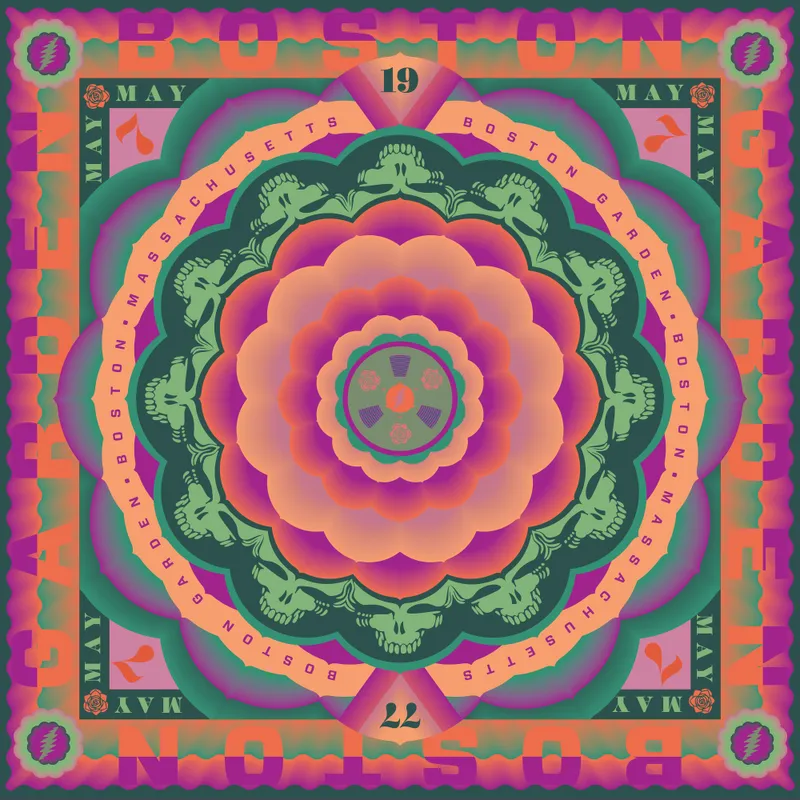 Vinila plates
The Grateful Dead - Boston Garden, Boston, MA 5/7/77 (Live) (5 LP)(RSD 2023)
Preces kods:
603497838356
Noliktavā pieejamas pēdējais eksemplārs
Apraksts
---
Available for the first time on vinyl, Grateful Dead's May 7, 1977 performance at Boston Garden. In a 5-LP, 180-Gram vinyl boxed set.

The Grateful Dead performed more the 2,300 concerts, and of these many live shows, a three night run in May 1977, spanning three cities on the East Coast, is arguably the Dead's greatest trio of shows: May 7 in Boston, MA, May 8 in Ithaca, NY, and May 9 in Buffalo, NY. These three shows, along with their near-equal from May 5 in New Haven, made up the long-ago sold out box set "Get Shown The Light." The last two nights of this run have been released on vinyl in previous years, and we're thrilled to add to the canon the magnificent Boston show. From its opening, playful "Bertha," through a flawless first set featuring "Cassidy," "Jack Straw," "Mississippi Half Step," "The Music Never Stopped," and many others, the Dead are clearly having a wonderful night in Bean Town. The second set is filled with then-new and older songs from the Dead's catalog, including "Terrapin Station," "Estimated Prophet," "Eyes Of The World," and "Wharf Rat," amongst others. A spectacular show from start-to-finish, Boston 5/7/77 is one of the most upbeat, accessible shows the Grateful Dead ever performed.

Side A

1. BERTHA [8:06]

(Garcia/Hunter)

[USRH12202423]

2. CASSIDY [5:11]

(Weir/Barlow)

[USRH12202424]

3. DEAL [5:39]

(Garcia/Hunter)

[USRH12202425]

Side B

1. JACK STRAW [5:43]

(Weir/Hunter)

[USRH12202426]

2. PEGGY-O [8:19]

(Trad. Arr. by Grateful Dead)

[USRH12202427]

3. NEW MINGLEWOOD BLUES [6:45]

(Trad. Arr. by Grateful Dead)

[USRH12202428]

Side C

1. MISSISSIPPI HALF-STEP UPTOWN TOODELOO> [12:46]

(Garcia/Hunter)

[USRH12202429]

2. BIG RIVER [6:55]

(Cash) House Of Cash Inc. (BMI)

[USRH12202430]

Side D

1. TENNESSEE JED [8:36]

(Garcia/Hunter)

[USRH12202431]

2. THE MUSIC NEVER STOPPED [7:46]

(Weir/Barlow)

[USRH12202432]

Side E

1. TERRAPIN STATION [11:04]

(Garcia/Hunter)

[USRH12202433]

2. SAMSON AND DELILAH [7:46]

(Trad. Arr. by Bob Weir)

[USRH12202434]

Side F

1. FRIEND OF THE DEVIL [8:18]

(Garcia/Dawson/Hunter)

[USRH12202435]

2. ESTIMATED PROPHET [8:24]

(Weir/Barlow)

[USRH12202436]

Side G

1. EYES OF THE WORLD> [11:30]

(Garcia/Hunter)

[USRH12202437]

Side H

1. DRUMS> [3:23]

(Hart/Kreutzmann)

[USRH12202438]

2. THE WHEEL> [10:42]

(Garcia/Hunter/Kreutzmann)

[USRH12202439]

Side I

1. WHARF RAT> [14:33]

(Garcia/Hunter)

[USRH12202440]

2. AROUND AND AROUND [7:57]

(Berry) Isalee Music Co. (BMI)

[USRH12202441]

Side J

1. U.S. BLUES [6:07]

(Garcia/Hunter)

[USRH12202442]
Žanri
---
Record Store Day
Rock
Psychedelic Rock
Apmeklētāji skatās arī šīs preces