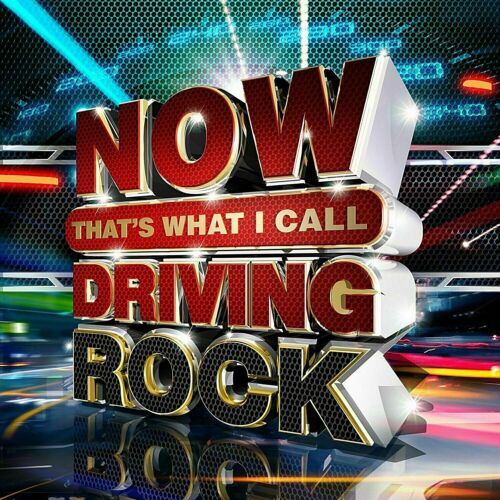 CD diski
Various - Now That's What I Call Driving Rock (3 CD)
Preces kods:
889854350321
Noliktavā PIEEJAMS
€14.99
Apraksts
---
1-1 Queen– Another One Bites The Dust

1-2 The Clash– Should I Stay Or Should I Go

1-3 The Killers– Mr. Brightside

1-4 The Fray– How To Save A Life

1-5 Razorlight– America

1-6 Deep Blue Something– Breakfast At Tiffany's

1-7 Boston– More Than A Feeling

1-8 Blue Oyster Cult– (Don't Fear) The Reaper

1-9 Bryan Adams– Run To You

1-10 Simple Minds– Don't You (Forget About Me)

1-11 Run-DMC Feat. Aerosmith– Walk This Way

1-12 Ram Jam– Black Betty

1-13 Alien Ant Farm– Smooth Criminal

1-14 Alice Cooper– Poison

1-15 Steppenwolf– Born To Be Wild

1-16 Free– All Right Now

1-17 Lenny Kravitz– Are You Gonna Go My Way

1-18 Billy Idol– White Wedding

1-19 Genesis– Turn It On Again

1-20 Europe– The Final Countdown

2-1 Lynyrd Skynyrd– Sweet Home Alabama

2-2 Fleetwood Mac– Everywhere

2-3 Toto– Africa

2-4 Stealers Wheel– Stuck In The Middle With You

2-5 Train– Drive By

2-6 John Farnham– You're The Voice

2-7 Billy Joel– We Didn't Start The Fire

2-8 Stereophonics– Have A Nice Day

2-9 Manic Street Preachers– A Design For Life

2-10 Extreme– More Than Words

2-11 Foreigner– I Want To Know What Love Is

2-12 Whitesnake– Here I Go Again

2-13 Cutting Crew– (I Just) Died In Your Arms

2-14 Starship– Nothing's Gonna Stop Us Now

2-15 Cher– If I Could Turn Back Time

2-16 Heart– Alone

2-17 Belinda Carlisle– Heaven Is A Place On Earth

2-18 REO Speedwagon– Can't Fight This Feeling

2-19 Rainbow– Since You Been Gone

3-1 Wheatus– Teenage Dirtbag

3-2 Blink-182– All The Small Things

3-3 Stereophonics– Dakota

3-4 Nickelback– How You Remind Me

3-5 Feeder– Buck Rogers

3-6 The Who– Pinball Wizard

3-7 Thin Lizzy– The Boys Are Back In Town

3-8 Marc Cohn– Walking In Memphis

3-9 Bruce Hornsby & The Range– The Way It Is

3-10 Roachford– Cuddly Toy

3-11 Daryl Hall & John Oates– You Make My Dreams

3-12 Mike The Mechanics– Over My Shoulder

3-13 Electric Light Orchestra– Don't Bring Me Down

3-14 Kenny Loggins– Danger Zone

3-15 Rick Springfield– Jessie's Girl

3-16 Huey Lewis & The News– The Power Of Love

3-17 Alannah Myles– Black Velvet

3-18 Meat Loaf– You Took The Words Right Out Of My Mouth (Hot Summer Night)

3-19 Stevie Nicks– Edge Of Seventeen

3-20 Chuck Berry– No Particular Place To Go
Viesmākslinieki
---
Bryan Adams
Thin Lizzy
Electric Light Orchestra
Chuck Berry
Fleetwood Mac
Alice Cooper
The Killers
Lynyrd Skynyrd
Lenny Kravitz
Whitesnake
Queen
Billy Idol
The Who
Simple Minds
Rainbow
Meat Loaf
Toto
Wheatus
Blue Öyster Cult
Billy Joel
Ram Jam
Manic Street Preachers
Aerosmith
The Clash
Blink-182
Stevie Nicks
Foreigner
Boston
Belinda Carlisle
Run Dmc
Europe
Nickelback
Genesis
Žanri
---
Compilation
Rock
Piegāde visā Baltijā
..turklāt bezmaksas piegāde visā Latvijā pirkumiem virs 70 EUR!
Randoms Vecrīgā
Atrodi vēl 10x vairāk randoma lietas mūsu veikaliņā Vecrīgā!
Trāpi mērķī
Unikālākās dāvanas jebkuram - no kamasutras kārtīm līdz vinilu boxsetiem!
Iegūta uzticamība
Iespējams, Tava mamma pēc skolas nāca pie mums pirkt kasetes jau 1997-tajā. :)