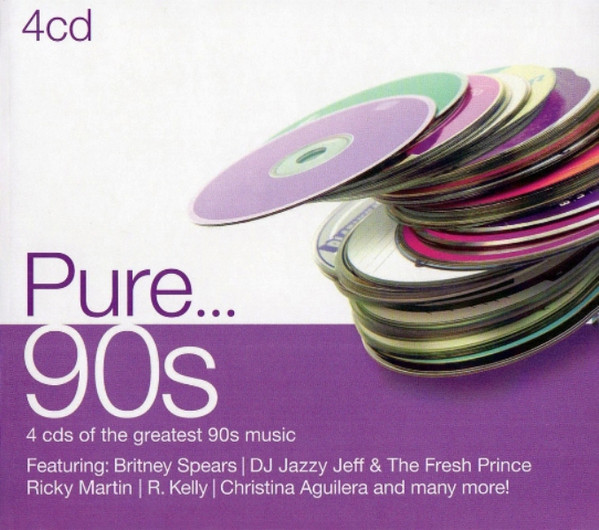 CDs
Various - Pure... 90s (4CD)
Product code:
887254138426
Item NOT AVAILABLE in stock
Description
---
1-1 Los Del Rio– Macarena (Bayside Boys Remix)

1-2 Run-DMC– It's Like That

1-3 DJ Jazzy Jeff & The Fresh Prince– Boom! Shake The Room

1-4 Britney Spears– (You Drive Me) Crazy

1-5 A Tribe Called Quest– Can I Kick It?

1-6 Shabba Ranks Featuring Chevelle Franklin*– Mr. Loverman

1-7 Fugees– Fu-Gee-La

1-8 R. Kelly– I Believe I Can Fly

1-9 Backstreet Boys– Show Me The Meaning Of Being Lonely

1-10 Céline Dion– Think Twice

1-11 Toni Braxton– Un-Break My Heart

1-12 Des'ree– Life

1-13 Curtis Stigers– I Wonder Why

1-14 Jeff Buckley– Hallelujah

1-15 Crash Test Dummies– Mmm Mmm Mmm Mmm

1-16 Soul Asylum (2)– Runaway Train

1-17 Spin Doctors– Two Princes

2-1 Christina Aguilera– What A Girl Wants

2-2 Ricky Martin– Maria

2-3 Lou Bega– Mambo N°5

2-4 Ini Kamoze– Here Comes The Hotstepper

2-5 Cypress Hill– Insane In The Brain

2-6 TLC– Waterfalls

2-7 Finley Quaye– Even After All

2-8 Groove Armada– At The River

2-9 Olive– Miracle

2-10 M People– One Night In Heaven

2-11 Moodswings Featuring Chrissie Hynde– Spiritual High (State Of Indepencence)

2-12 Steps– Heartbeat

2-13 La Bouche– Be My Lover

2-14 Dr. Alban– Sing Hallelujah!

2-15 Rednex– Cotton Eye Joe

2-16 C C Music Factory Presenting Freedom Williams– Gonna Make You Sweat (Everybody Dance Now)

2-17 Faithless– God Is A DJ

3-1 Usher– You Make Me Wanna

3-2 Jay-Z– Hard Knock Life (The Ghetto Anthem)

3-3 SWV– Right Here (Human Nature Radio Mix)

3-4 Aaliyah– At Your Best (You Are Love)

3-5 Monica– Angel

3-6 Brownstone– If You Love Me

3-7 TQ– Westside

3-8 Ginuwine– Pony

3-9 Diana King– I Say A Little Prayer

3-10 The Tony Rich Project– Nobody Known

3-11 3T– Anything

3-12 Tatyana Ali– Everytime

3-13 Joe– All That I Am

3-14 Maxwell– Wherever Whatever

3-15 Jon B.* Featuring Babyface– Someone To Love

3-16 Another Level– Freak Me

3-17 Pras*– Blue Angels

4-1 George Michael– Outside

4-2 Natalie Imbruglia– Torn

4-3 Lonestar (3)– Amazed

4-4 Wyclef Jean– Gone Till November

4-5 Michael Bolton– When A Man Loves A Woman

4-6 Lisa Stansfield– All Woman

4-7 Gloria Estefan– Here We Are

4-8 New Kids On The Block– Tonight

4-9 Sophie B. Hawkins– Damn I Wish I Was Your Lover

4-10 Kula Shaker– Hey Dude

4-11 Tal Bachman– She's So High

4-12 The Wannadies– You & Me Song

4-13 Five– Keep On Moving

4-14 N'Sync*– Tearin' Up My Heart

4-15 B*Witched– Rollercoaster

4-16 Lightning Seeds– Lucky You

4-17 Gipsy Kings– Volare (Nel Blu Dipinto Di Blu)
Genre
---
Electronic
Visitors are also viewing these products