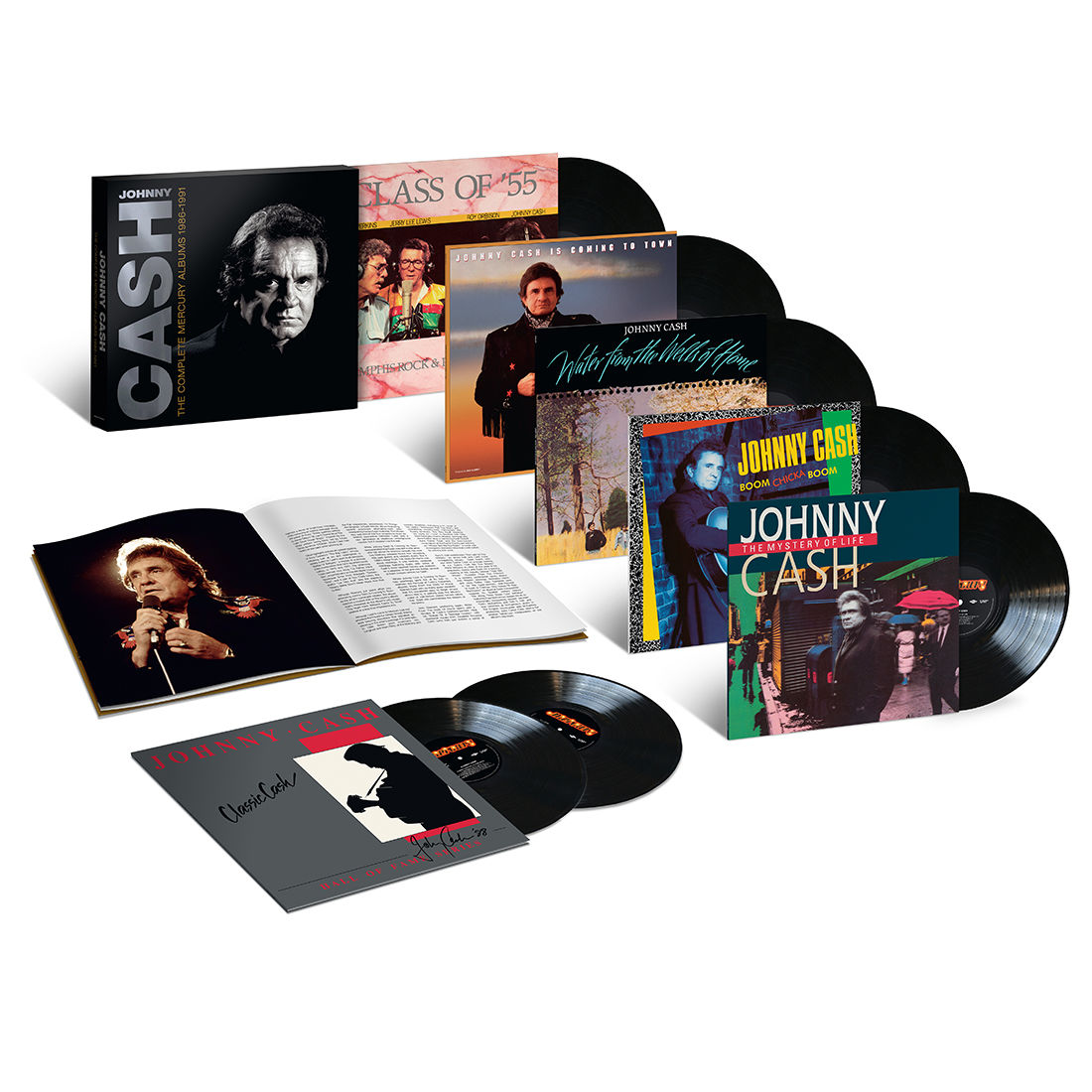 Vinila plates
Johnny Cash -

The Complete Mercury Albums 1986-1991 (7 LP Box Set)

Preces kods:
60256772694
Noliktavā pieejamas 1 vienības
€79.99
Piegāde visā Baltijā ar Omniva pakomātiem no €1.99
---
Saņem preci LV: Otrdien, LT: Trešdien, EE: Trešdien
Apraksts
---
Class Of '55

1-1 Birth Of Rock And Roll

1-2 Sixteen Candles

1-3 Class Of '55

1-4 Waymore's Blues

1-5 We Remember The King

1-6 Coming Home

1-7 Rock And Roll (Fais-Do-Do)

1-8 Keep My Motor Running

1-9 I Will Rock And Roll With You

1-10 Big Train (From Memphis)

Johnny Cash Is Coming To Town

2-1 The Big Light

2-2 The Ballad Of Barbara

2-3 I'd Rather Have You

2-4 Let Him Roll

2-5 The Night Hank Williams Came To Town

2-6 Sixteen Tons

2-7 Letters From Home

2-8 W. Lee O'Daniel (And The Light Crust Dough Boys)

2-9 Heavy Metal (Don't Mean Rock And Roll To Me)

2-10 My Ship Will Sail

Water From The Wells Of Home

3-1 Ballad Of A Teenage Queen

3-2 As Long As I Live

3-3 Where Did We Go Right

3-4 The Last Of The Drifters

3-5 Call Me The Breeze

3-6 That Old Wheel

3-7 Sweeter Than The Flowers

3-8 A Croft In Clachan (The Ballad Of Rob Macdunn)

3-9 New Moon Over Jamaica

3-10 Water From The Wells Of Home

Classic Cash: Hall Of Fame Series

4-1 Get Rhythm

4-2 Tennessee Flat Top Box

4-3 Long Black Veil

4-4 A Thing Called Love

4-5 I Still Miss Someone

4-6 Cry, Cry, Cry

4-7 Blue Train

4-8 Sunday Morning Coming Down

4-9 Five Feet High And Rising

4-10 Peace In The Valley

Classic Cash: Hall Of Fame Series

5-1 Don't Take Your Guns To Town

5-2 Home Of The Blues

5-3 Guess Things Happen That Way

5-4 I Got Stripes

5-5 I Walk The Line

5-6 Ring Of Fire

5-7 Ballad Of Ira Hayes

5-8 The Ways Of A Woman In Love

5-9 Folsom Prison Blues

5-10 Supper Time

Boom Chicka Boom

6-1 A Backstage Pass

6-2 Cat's In The Cradle

6-3 Farmer's Almanac

6-4 Don't Go Near The Water

6-5 Family Bible

6-6 Harley

6-7 I Love You, Love You

6-8 Hidden Shame

6-9 Monteagle Mountain

6-10 That's One You Own Me

The Mystery Of Life

7-1 The Greatest Cowboy Of Them All

7-2 I'm An Easy Rider

7-3 The Mystery Of Life

7-4 Hey Porter

7-5 Beans For Breakfast

7-6 Goin' By The Book

7-7 Wanted Man

7-8 I'll Go Somewhere And Sing My Songs Again

7-9 The Hobo Song

7-10 Angel And The Badman
Lietotāji skatās arī šīs preces
Piegāde visā Baltijā
..turklāt bezmaksas piegādes visā Latvijā pirkumiem virs 70 EUR!
Randoms Vecrīgā
Atrodi vēl 10x vairāk randoma lietas mūsu veikaliņā Vecrīgā!
Trāpi mērķī
Unikālākās dāvanas jebkuram - no kamasutras kārtīm līdz vinilu boxsetiem!
Iegūta uzticamība
Iespējams, Tava mamma pēc skolas nāca pie mums pirkt kasetes jau 1997-tajā. :)